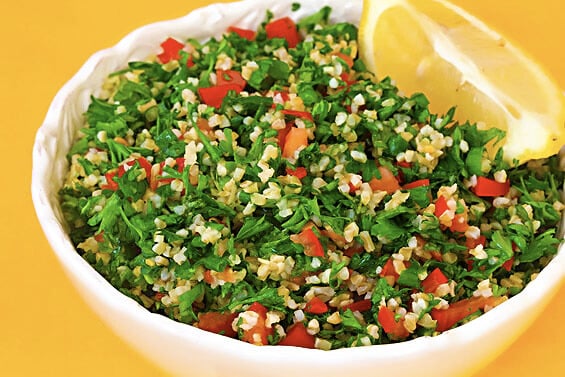 ... is a song about a Middle Eastern dish that has parsley and tomatoes. This song is ridiculously funny! The song is described as, "

The #1 dance club song about tabbouleh

". It is super catchy and it stays in your head for days. Whenever I hear the song, I randomly burst into dance.

Here's the lyrics:
Tabbouleh
Tabbouleh Tabbouleh
Makes me shake
shake shake my booty
Eat it with lots of falafal
Eat it on top of a camel

Dance.
Cuz it's the only beat
That's gonna stick in your head
and stick in your teeth

You gotta push push
Push the tush
When you eat an Arab salad
that is not fettoush

It's a hearty party
tasting yum yum
Taste that parsley
Shake your bum bum

In the club.
Don't need a shorty/cutie
All I need to take is
a bowl of tabbouleh

No we don't need hip hop
house or trance
Cuz this song about a salad
make you shake your pants

No we don't need groovy
techno techno
Just tabbouleh
in your head hole

Don't need bouncers
or velvet rope
I hope by now you
get the point

Don't need glow stick
or Red Bull vodka
You just gotta shake
where you make the kaka

First you take parsley from your sister
Chop it off like hand of shoplifter
Then take a tomato and dice it
don't forget to add all the spices

Then you take a half cup of burghul
Oh my God, it's gone taste so good
Yes this recipe is the bomb but
it tastes best when it's made by Mamma

In Lebanon
they eat it with coffee
In Libya
eat it with Quadafi

Jordan, Iraq
Bahrain, Saudi
Everybody love
the tabbouleh

In Syria
they eat it the fastest
and make sure to
shake shake Damascus

Them in Yemen
lemon the food-y
And Africa they
move move Djibouti

Tabbouleh
I hope I will finish
It to me is like
Popeye's spinach

but instead of getting
muscles in both arms
I get a moving groove
in my buttocks

Met a girl
She was a cutie
She said she'd
make me tabbouleh

But she made it
without the tomatoes
So I had to tell her
See you later